Pakleni Islands
Nature & Culture & Cuisine
A short distance away from Hvar Island are the Pakleni Islands. In fact, they are so close that you can see them directly from Hvar town.
Pakleni Islands, also known as Paklinski, is an archipelago of 18 islands and islets sprinkled right in front of the Hvar Town at the western edge of Island of Hvar. Here are the names of the islands: Mali Vodnjak, Veli Vodnjak, Travna, Lengva, Borovac, Sveti Klement, Dobri Otok, Vlaka, Gojca, Mlin, Planikovac, Marinkovac, Sveti Jerolim and Galisnik. If you are looking for one of the best day trips from Hvar island, don't miss this amazing chain of islets with crystal-clear waters, secluded beaches and easy hiking trails. Walk to the top of Vela Glava Hill to see the views of the whole archipelago, an ideal late afternoon hiking trip to watch the sunset.
Also, they are often mistakenly called Hell's Islands given that the Croatian word for hell is pakao, but their name actually comes from a type of pine resin, which was once harvested on the islands and used for coating ships – paklina.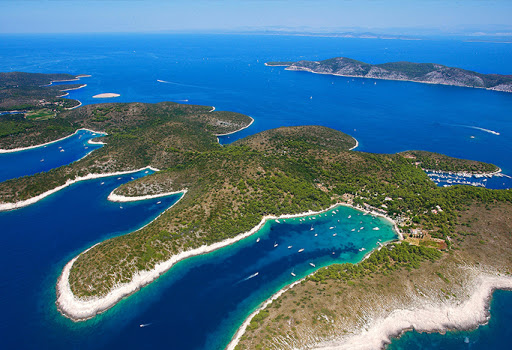 Island Galešnik is the closest island to the Hvar port and an ideal place if you want to escape the buzzing Hvar town and enjoy at the view of the port and Fortica fortress in front of you.
Just behind island Galešnik you will find island Jerolim. Jerolim is a great island for relaxing and getting active in pristine natural surroundings. It has gorgeous beaches and is actually a favorite of naturists. If you plan to put swimwear on, Amo Beach is the best choice.
The picturesque Marinkovac Island is best-known for Stipanska Bay which is an awesome place to unwind and marvel at the natural beauty. Another inlet you can visit is Zdrilca which has some secluded pebble beaches. This one of the Pakleni Islands is home to some of the best night clubs not only in Dalmatia, but in the whole of the Adriatic. If you want a party in a luxury setting with a five-star service this is the place to go.
The largest island of the Pakleni Islands archipelago is the island of St. Klement. St. Klement island has a number of beautiful spots but the three most popular with tourists are definitely Perna beach, Palmižana bay and Vlaka beach. It seems that the Pakleni Islands were created for island hopping. They are closely packed together and aren't very big.
You can take a day trip around all of them to marvel at the beautiful nature. Also, Scuba diving and kayaking are some of the major attractions that Pakleni Islands have to offer. You can explore beautiful nature and clear sea surrounding the Islands.
Sources: Pinterest, croatia.hr, daytripsfromsplit.com, croatiaspots.com