Top 10 beaches in Croatia
Nature & Culture & Cuisine
There are over a thousand islands off the coast of Croatia, making it hard to narrow down the best beaches. However, we are happy to help and suggest some of our favourites, and to make it as enjoyable as possible. You can easily reach these beaches by boat and we would be more than happy to assist you with any questions you may have!
Contact us today for more information: charter@sailclubcroatia.com
Beach Mala Kolumbarica, Premantura 44.7691° N, 13.9115° E
If you're a fan of extreme sports, then the heat is on! From heights of 1 meter to 7 meters, the best place for adrenaline-pumping jumps is here and waiting. Whether you're looking to get your feet off the ground and soar through the air or take your jumping skills to the next level, this is the place for an unforgettable experience. Get ready for some serious thrills as you defy gravity and fly like never before!

Stiniva Beach 43.0214° N, 16.1716° E
If you are an adventurous traveler with a love for exploring hidden gems, then this place is an absolute must-visit. This hidden gem is situated in a beautiful and remote location, and can only be accessed by hiking down to it or, of course, sailing to it. The trip will be worth it as you will be able to enjoy the spectacular views of nature from the top of this secret spot. In case you didn't know, some of Mamma Mia 2 beach scenes were also taken here.
Stiniva beach has been voted the best beach in Europe for 2016 by more than 10,000 travellers and it's easy to see why. With its white sand, crystal blue waters and perfect sunsets, this truly is a paradise waiting to be discovered. Whether you are looking for a relaxing holiday or an adventurous getaway – this beach has something for everyone.


Golden Horn Beach 43.2563° N, 16.6338° E
This unusual and beautiful geological formation is a symbol of Croatian tourism, drawing in visitors to enjoy its beauty and there is no wonder why - its unique beauty and striking features make it a favorite destination for travelers from all over the world.
One of the most distinctive features of the Croatian beaches is the phenomenon of a pebble cape or "rat". Located on the southern side of the island of Brač, this stunning stretch of coastline will have you captivated. With its white sand and crystal clear waters, it's a paradise for those who want to relax and enjoy nature. Plus, its convenient location makes it easy to reach by car or boat. So come and explore this beautiful spot - you won't regret it!
With its unique geology, stunning views, and amazing activities to do on the beach, it's no surprise that Croatia continues to be a popular tourist destination.


St. John Beach (Lubenice) 44.8860° N, 14.3216° E
St. Ivan is located in a bay at the foot of Lubenice, a small town on the Croatian island of Cres. The beach is covered with fine pebbles, and the area surrounding the beach is untouched nature, making it ideal for a quiet holiday. The town itself is quite small, but it's a good place to relax and enjoy the scenery. This unusual town built out of stone has a spectacular view over the sea and islands from the village walls. It takes about 45 minutes to walk down and about one hour to climb back up, and if you are not into hiking, the beach is often visited by yachts and we are here to help! :)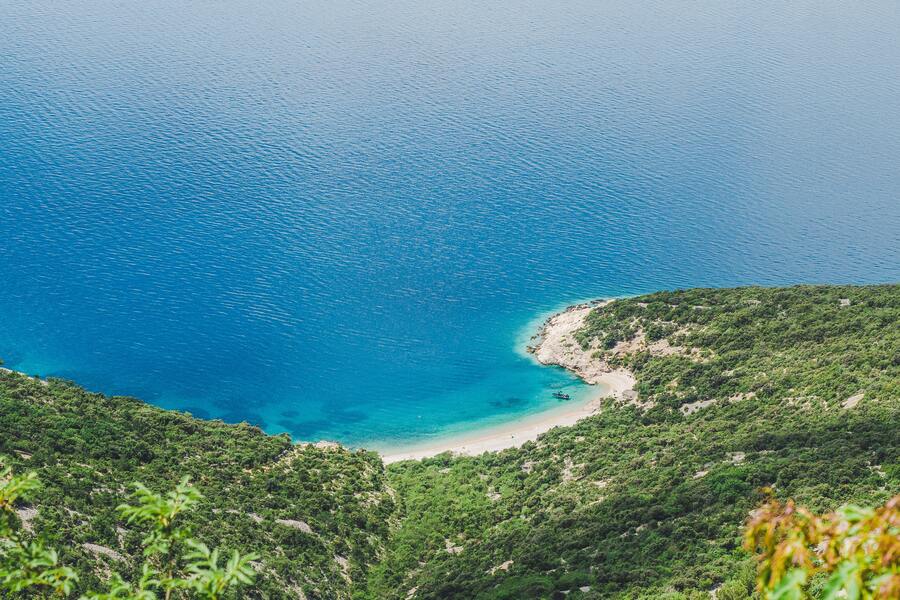 Brela Stone Beach 43.3686° N, 16.9299° E
If you find yourself on the stunning Punta Rata beach in Croatia, be sure to check out the Brela Stone. This mighty rock is symbolic of the town of Brela, and is often featured on postcards of both Brela and Croatia. The Brela Stone is covered in pine trees, which seem to defy gravity as they grow out of the stone. The clear blue waters of the Adriatic Sea make for a beautiful backdrop to this natural wonder. There are plenty of restaurants and bars along the beach, so you can enjoy a refreshing drink or meal while taking in the incredible views.
Well worth a detour if you are visiting this part of the Dalmatian riviera, the Brela Stone is a must-see.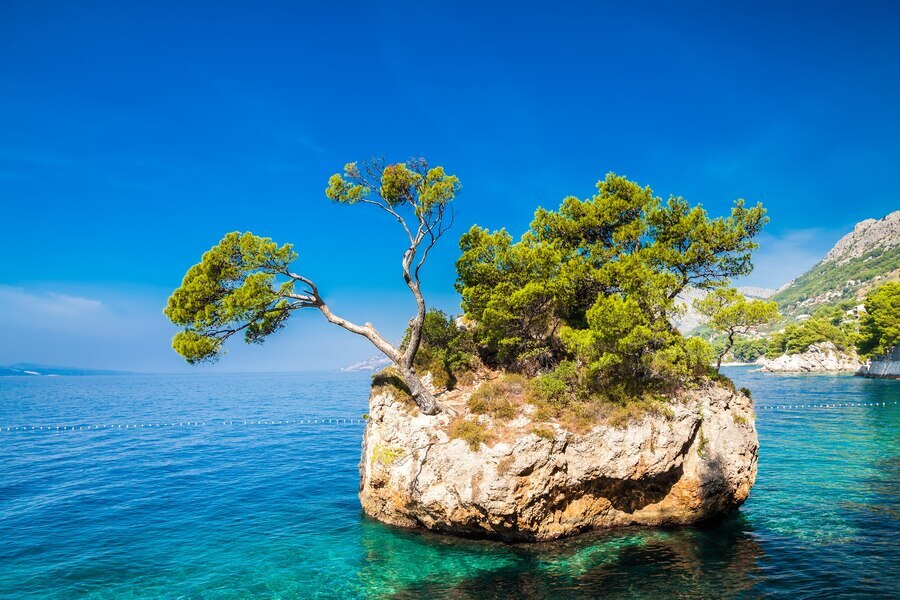 Banje Beach 42.6417° N, 18.1161° E
Banje Beach is one of the most popular beaches in southern Croatia, due to its stunning location in the city of Dubrovnik. The beach has grown in popularity over the years, as more and more visitors come to experience the unique atmosphere of the city. Banje Beach is situated beside the old city walls, and offers views of the Lokrum island in the distance. The main reason for its popularity is the fact that it provides the perfect opportunity to take some amazing photos of the cityscape. The beach is also famous for its nightlife, with a number of beachside bars and clubs that stay open until the early hours of the morning.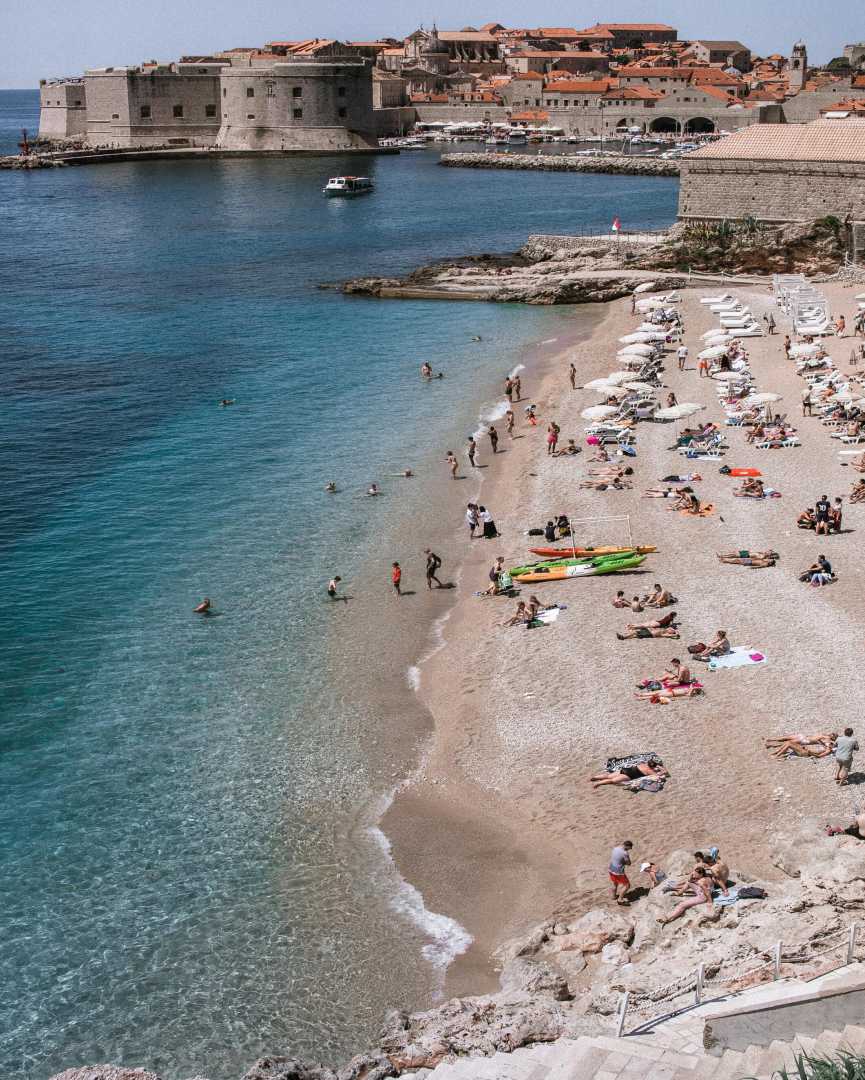 Dubovica Beach 43.1460° N, 16.5350° E
Probably the best beach near Stari Grad is the one that you can reach by car or bike within 10 minutes. As most of the beaches in Hvar, there is no sand but pebbles. The beach itself is quiet, with a small bar and restaurant and a pine forest behind. It is so beautiful, yet not overcrowded. The water is clear and calm, with rocks lining nearby for decent snorkeling and swimming. Dubovica has a unique vibe that is reminiscent of the 1990s. This beach is definitely something different, and we can see why so many people love it.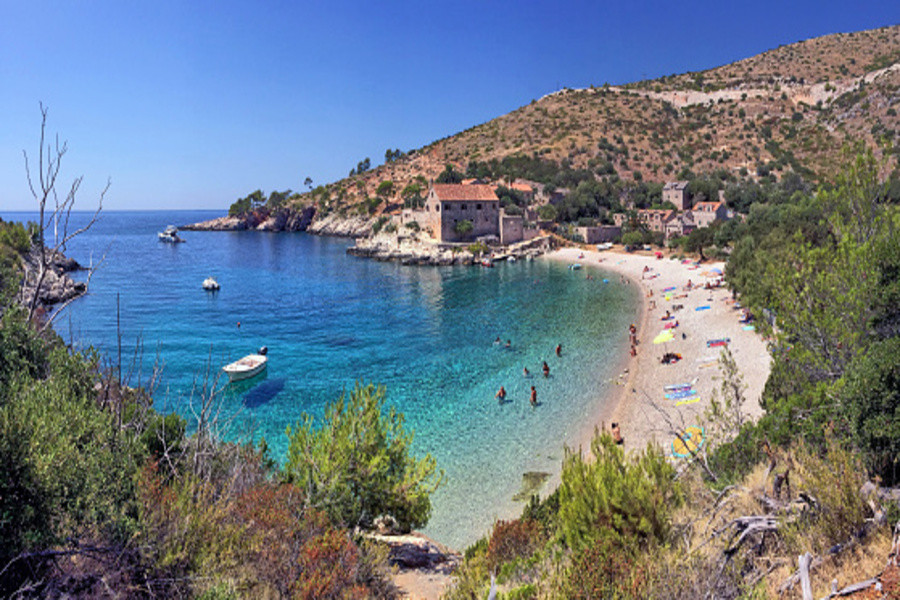 Pasjača Beach 42.5134° N, 18.3205° E
When you arrive at the end of the road, you will need to walk 5-10 minutes down a beautiful (but sometimes steep) walkway to the beach. However, the beach is definitely worth the walk! This beach is like something straight out of a movie - the water is crystal clear and the pebble beach is very nice. If you're into snorkeling, you'll be pleased to know that there are some great rocks on both sides of the beach with lots of fish and underwater fauna. However, there are no shops or bars, so remember to bring everything you need with you.


Pritišćina Beach 43.0078° N, 16.1124° E
If you're looking for a truly breathtaking beach experience, you'll want to head to Pritisčina beach. This natural oasis is famous for its clean sea, incredible views, and beautiful rocks and caves. You can even find a hidden bay just a few minutes swim from the shore. There are no restaurants or other amenities, so be sure to bring your own food and water. But the stunning surroundings more than make up for any inconvenience. As soon as you plunge into the rocks of Pritisčina beach, you'll be mesmerized by its natural beauty. In front of the sea, you can see luxury yachts and boats that will decorate the background of your photos, or even better, take yourself there by boat.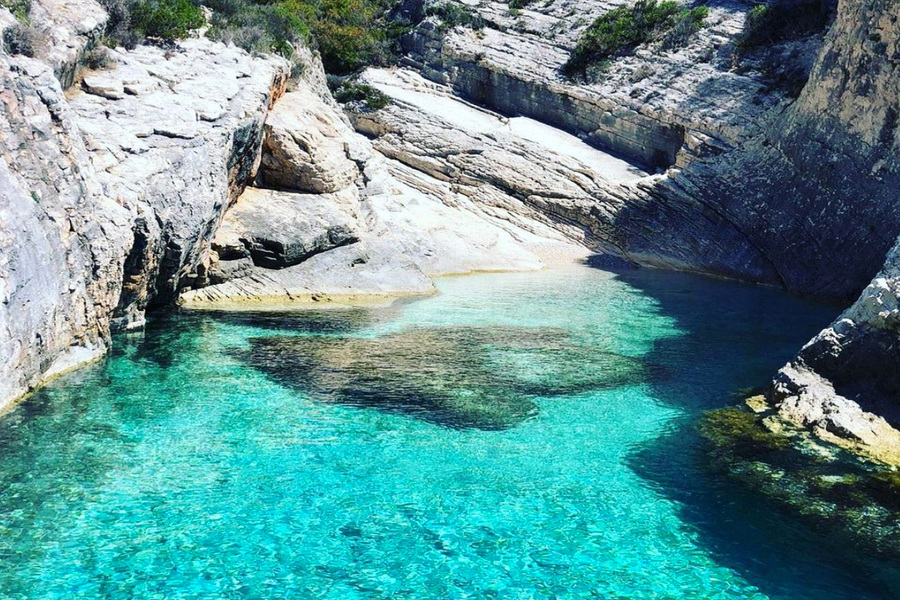 Beach Sakarun 44.1341° N, 14.8725° E
Beach Sakarun is perfect for families with small children. The sand and water are perfect for them to play in all day long. There are also bars that offer refreshments and food, so you can stay well-fed and hydrated while you enjoy the beach. The beach can be a great place to relax and enjoy the outdoors, but some people may not be so happy with it. The sand can be a bit grassy at the beginning of the season, which can make the beach seem unclean. However, if you take a boat out into the sea, you can enjoy the crystal-clear sea and a beautiful view.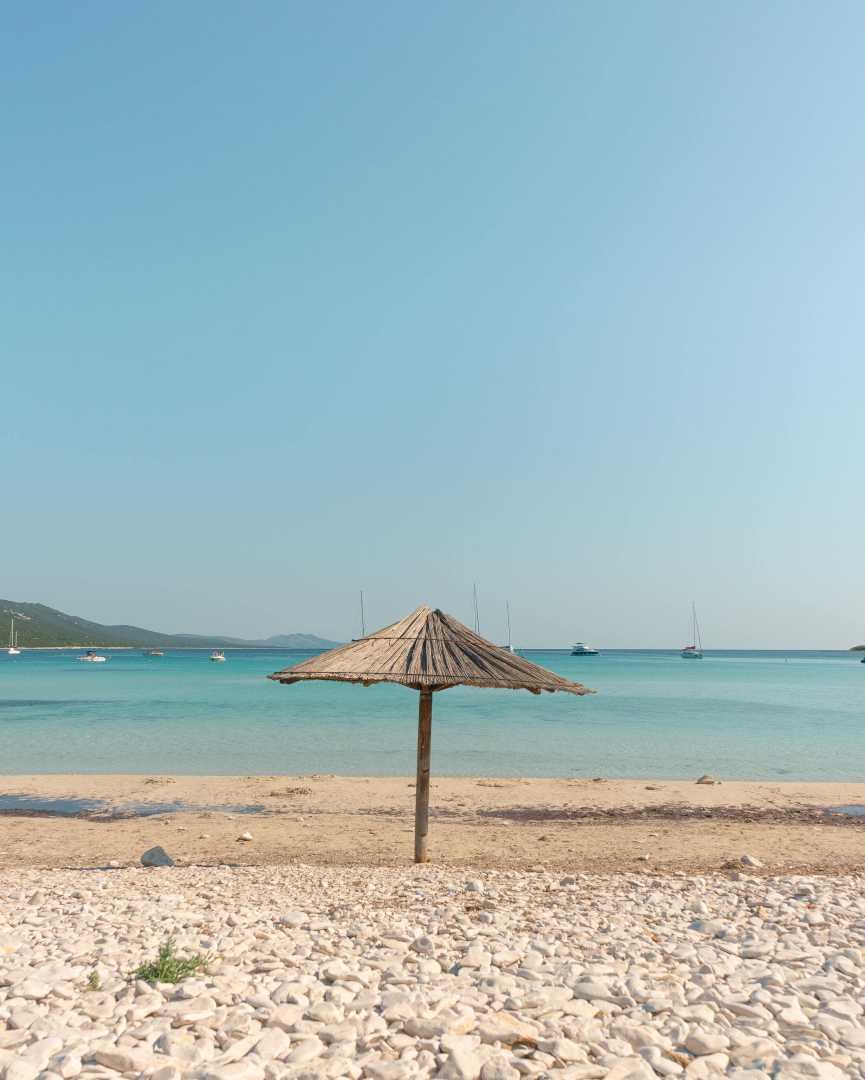 The map where you can see all of the ten beaches in Croatia mentioned above.
If you need any information how to get there, let us know! You can contact us anytime: charter@sailclubcroatia.com
Sail Club Croatia team is Sailing your way!
#sailing #croatianbeaches #beautifulbeaches