Visit Mljet
Nature & Culture & Cuisine
Mljet Island Mljet Island lies south of the Pelješac peninsula, from which it is divided by the Mljet Channel. Its length is 37 kilometres (23 mi) and its average breadth 3.2 kilometres (2.0 mi). It is of volcanic origin.
Mljet National Park makes up most of the island, and there are several villages, two salt water lakes - Veliko and Malo jezero, and a Benedictine monastery on the island of sv. Marija [St. Mary] . In Polače there are some of the best natural anchorages in the Adriatic. Preserved from the Illyrian period, there are many fortifications and tombs, and the best preserved are those on the hill of Veliki Gradac, Veliko jezero and the fortress at Vodice, above the water source at Vodice at Babino Polje.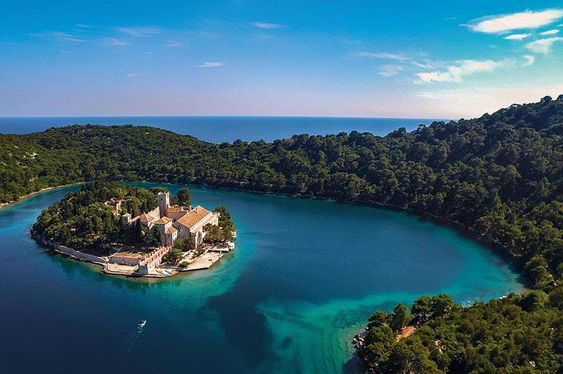 The Roman Palace, which is the largest after Diocletian's Palace in Split and the Arena in Pula, is a part of the valuable heritage of the island of Mljet. On the south part of the island you can find Odysseus cave which is an geomorphology phenomena. It is a karst hole which looks like a pit. It is connected with open sea by small and low tunel, through wich it is possible to pass just during nice weather.
There's plenty of activities to choose from when visiting Mljet: whether you like hiking, cycling, diving, or even if you'd just like to sunbathe and lay on one of many beautiful beaches, sipping cocktails an enjoying delicious traditional cuisine.
If you're planning your sailing route to south of Croatia, island and national park Mljet is an unavoidable stop.
Sail your way with Sail Club Croatia and choose this peaceful environment for your ideal summer vacation!
Sources: mljet.hr, Pinterest